1/2 day – Sillustani Cultural
In Our CULTURAL TOURS,&nbsp TITIKAKA ADVENTURES offer differents options in the Lake Titicaca. 2days/1night tour of the Uros, Amantani and Taquile, the 1day tour of Uros and Taquile and Half Day Uros Floating Island. We have also added to the Sillustani ruins. Although not a lake trip, it may be of interest to you.
Reservations are easy enough to do. We accept bookings via e-mails, and payment would be when you arrive to Puno in our office. No deposit is required. Basically, you send us a mail here confirming which tour you'd like to take, pay the money when you get here. Please do not hesitate to contact us here.
| Location: | Duration | Departure |
| --- | --- | --- |
| Puno - Peru | 1/2 Day | All year |
| Day | Activity |
| --- | --- |
| day 1 | Puno / Sillustani |
| day 2 | &nbsp |
TRIP CODE: SILL.CU
Explore this magical place Sillustani archeological complex is the most important in our region surrounded by spectacular landscapes and a quietness few times observed, rowing onto the Umayu Island by a precious lagoon enjoy of unique landscapes and spots other travelers would consider a privilege to see. This trip will give you a wide perspective of the nature and history of the main grave yard of the Kolla Culture. Here, huge funerary towers are set in spectacular landscapes formed by the surrounding mountains and the "Humayo" lagoon. Here life has changed very little over the centuries, also have the chance to visit a traditional native house and observe guinea pigs, llamas, potato farms etc. and learn about real life in the Altiplano region. A fascinating glimpse into the local culture.
Tour Itinerary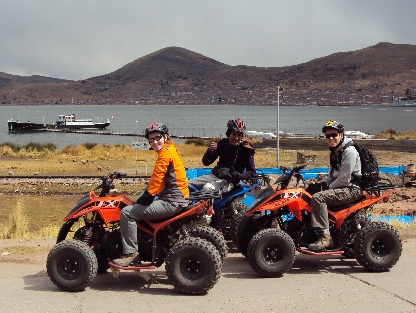 SILLUSTANI PRE-INCA CEMETERY + Visit to Family House (Traditional tour)
Pick up from your hotel in Puno with an English-speaking guide, observing the typical flora of the highlands, after 45 minutes bus ride the local guide will join the group and continue to the small pier of Casci. where experienced fishermen and their rowing boats wait for us for an unforgettable journey on to Umayu island. The Island is today a natural reserve for vicunas a type of South American camelides that mean to have the finest wool fiber, explore the island, and later continue rowing onto the peninsula of Sillustani to see the Archeological complex with the same name. There we take a guided tour which tells us about the ancient beliefs in the afterlife, while observing the huge funerary towers know as "Chullpas" impressive examples of megalithic architecture some of them with 12 meters high . Used by the lords of Kolla pre Inca nation.
After on the way back to Puno we stop to see and visit one of the traditional houses, part of the community of Hantun Kolla , observe the local's way of life , products they farm and get involved in some of their daily activities such as farming , weaving or just feeding the guinea pig. Then continue to Puno neither for 45 minute nor onto the Airport in Juliaca for 40 minutes.
Note: as this is a private trip it can run either in the morning or afternoon. If time for lunch on the way we can organize a traditional lunch in the family house (extra)
&nbsp
Includes and Prices
OUR PRICE INCLUDES:
Bilingual guide (Spanish-English).
Private Bus Transport
Rowting Boat
Entrance fees.
OUR PRICE DOES NOT INCLUDE:
PRICES
Daily Service
$ 57.00 - 2 person
$ 49.00 - 3 person
$ 43.00 - 4 person UP.
ASK FOR THE: SILLUSTANI IN ROUTE TO THE AIRPORT OR VIC. (Price on application)
ASK FOR DESCOUNTS FOR: GROUPS AND TRAVEL AGENTS
We'll see you soon!
&nbsp