Andean Altars
Reservations are easy enough to do. We accept bookings via e-mails, and payment would be when you arrive to Puno in our office. No deposit is required. Basically, you send us a mail here confirming which tour you'd like to take, pay the money when you get here. Please do not hesitate to contact us here.
| Location: | Duration | Departure |
| --- | --- | --- |
| Puno - Peru | 1 Day | All year |
| Day | Activity |
| --- | --- |
| day 1 | Inca Tunuhuire / Amu Muro / Chucuito |
| day 2 | &nbsp |
MISTICAL TRIP:
Dear Brothers we are conscious that the mystical world is mysterious and infinite. But in the same time so real and touchable. Let us to lead you through the sacred sites and original rituals of the Andean world. We believe in "Ayni" Ancestral spiritual law of cause and effect (the universal reciprocity, give and receive) the local Shamans are open to share with you the ancient Andes knowledge, the Mother earth energies and the Secrets of this magic lands.
<
Tour Itinerary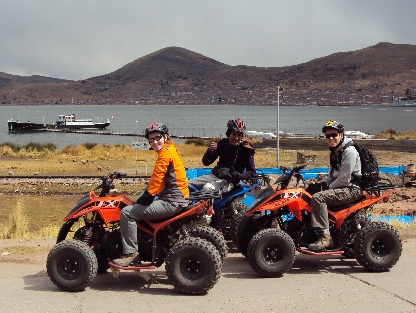 DAY 1: INCA TUNUHUIRE / AMU MURO / CHUCUITO:
Experience the magic of the Andes. Morning bus ride to "Inca Tunuhuire" to 13 kilometers south of Puno city, there we pilgrim to an ancient Initiation center located on a hilltop (40 min. hike) , the views over the mountains and lake Titicaca are just breathtaking, on the way up we find the ancient guardians ( Monoliths) with mysterious sacred symbols like snakes, Pumas, and humanoid forms one with marked Chakra Points there we do some energy works . Then a bus journey (1h.30min ride).
Takes us To "Ajayu Marca" the village of the spirits there amongst splendid rocky formations we hike and look for hidden symbols (snake, Puma , Condor) and the "Aramu muro doorway" An inter dimensional gateway that mean to be a direct connection with the inner astral retreat of Lake Titicaca, the temple of the Seven Rays and a connection with the ascended masters. Picnic lunch and return to Puno stopping at Chucuito and the Inca temple of the fertility and Understand its sacred geometry.
&nbsp
Includes and Prices
OUR PRICE INCLUDES:
Bilingual guide (Spanish-English).
Tourist Transport
Entrance fees.
OUR PRICE DOES NOT INCLUDE:
PRICES
Daily Service in Shared Group: US$ 34.00 per person.
$ 110.00 - 2 person
$ 93.00 - 3 person
$ 83.00 - 4 person
$ 69.00 - 5/6 person
$ 65.00 - 7/10 person UP
ADDITIONAL: SHAMAN ASISTANCE + CEREMONY
$ 45.00 - 2 person
$ 37.00 - 3 person
$ 32.00 - 4 person
$ 27.00 - 5/6 person
$ 24.00 - 7/10 person UP
ASK FOR DESCOUNTS FOR: GROUPS AND TRAVEL AGENTS
We'll see you soon!
&nbsp