1 Day – Uros Taquile
In Our TRADITIONALS TOURS,&nbsp TITIKAKA ADVENTURES offer differents options in the Lake Titicaca. 2days/1night tour of the Uros, Amantani and Taquile, the 1day tour of Uros and Taquile and Half Day Uros Floating Island. We have also added to the Sillustani ruins. Although not a lake trip, it may be of interest to you.
Reservations are easy enough to do. We accept bookings via e-mails, and payment would be when you arrive to Puno in our office. No deposit is required. Basically, you send us a mail here confirming which tour you'd like to take, pay the money when you get here. Please do not hesitate to contact us here.
| Location: | Duration | Departure |
| --- | --- | --- |
| Puno - Peru | 1 Day | All year |
| Day | Activity |
| --- | --- |
| day 1 | Uros / Taquile |
| day 2 | &nbsp |
TRIP CODE: SIC.TAQFD
If you have only one day to know Lake Titicaca, this is your option. This trip takes you to an encounter with the lake culture & landscapes.
ATRACCTIONS:
The Uros Floating Islands: On the hearth of the National Reserve Of lake Titicaca , an extence area of reed banks , where you will observe artificial reed platforms inhabited by this ancient ethnic group. It is surely one of the most original ways of life on earth. Some people think them artificial and acting for tourists. But in fact they are authentic, their culture is authentic, and the history of why they live amongst the reeds is fascinating.
Taquile Island: A place where the time has stopped. There you will see an indigenous community that conserves original Inca social traditions and organizations. The isolation has kept them almost untouched by the modern world. This enchanting Island with long shape is full of Inca terraces and some pre-Inca remains on its top.
Tour Itinerary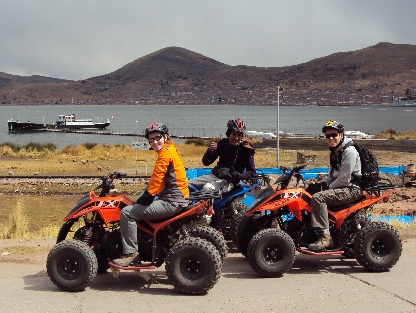 Full Day
This excursion begins at 6:30am with transfer from your hotel to the port. Then by motor boat (35 feet long with a covered section in case of rain or cold weather) we visit the Uros floating Islands. Stepping on them feels very much like a water bed (but it is quite safe). We see the houses, the islands and meet its friendly inhabitants .Uros people are descendents of one of the oldest South American groups. Rides on traditional reed boats can be arranged. We visit two of the 50 islands before continuing on to Taquile Island. After a relaxed navigation of 2 1/2 hours when we get the chance to enjoy the spectacular views offered by Lake Titicaca, we get to this unique place. There a unique community can be observed, they conserve Incan laws and social system. A long path gradually ascending will take us to the village, the views are unique and worth's. (45 min. hike aprox.) To visit the communal cooperative. Lunch at one of the local restaurants. The views are magnificent. Then we descent 500 steps down to the port. at 2:30pm approx. After, return to Puno, arrival at 05:00pm. Approximately.
&nbsp
Includes and Prices
OUR PRICE INCLUDES:
Bilingual guide (Spanish-English).
Transfers: Hotel /Port / Hotel.
Motor boat transport
Entrance fees.
OUR PRICE DOES NOT INCLUDE:
Lunch in Taquile
Small trip in reed boat ride in the Floating Uros Island
Tips
Additional charge of $ 4.00 US p/p. for transfers OUT SIDE City hotels, like : Hotel Libertador, Casa Andina Private Collection, Posada del Inca, Josι Antonio, Eco INN and others.
PRICES
Daily Service in Shared Group: US$ 25.00 per person.
You join a group of approx. 20 persons.
ASK FOR PRIVATE SERVICE: UROS FLOATING ISLAND (Price on application)
Private motor boat, professional English speaking guide. In this option there is the chance to go off the beaten path, by taking a walk on a original pre-inca path with one of the most spectacular Views of the south lake area. You can ask for a faster boat too…
OVERNIGHT EXTENSION IN TAQUILE ISLAND: US$ 38.00 per person.
Normally this is a day trip, but travelers that want to overnight can stay the night on this Island. The guide helps you find accommodation and organizing meals at the local restaurants (a service Included in the price). The guide will advise you how to catch the boat back to Puno the next day. You have to be at the main port at 2:00 pm. and return together with the second day group. (Includes Accommodation + 3 meals: Dinner, Breakfast, Lunch)
ASK FOR DESCOUNTS FOR: GROUPS AND TRAVEL AGENTS
We'll see you soon!
&nbsp